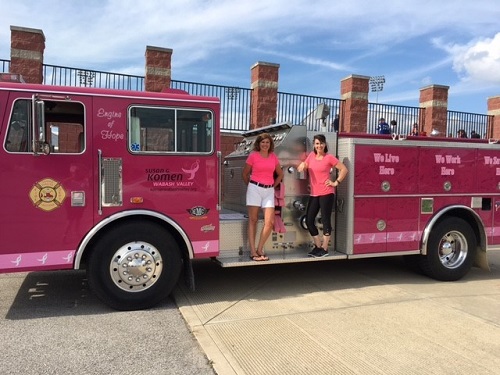 Susan G. Komen Race for the Cure® Series is the world's largest and most successful education and fundraising event for breast cancer ever created.
This year marks the 20th annual Komen Wabash Valley Race for the Cure in Terre Haute, and we hope you will join us in celebrating 20 years of local impact! The event raises significant funds and awareness for the breast cancer movement in Wabash Valley and surrounding central Indiana counties. It also celebrates breast cancer survivorship and honors those who have lost their battle with the disease.
We have open hours at the Wabash Valley office in the weeks leading up to Race for the Cure. Teams and individuals are welcome to register on-site and pick up their Race materials all at once. The Wabash Valley office hours at The Meadows are:
Monday through Friday, 9/26 – 9/30, 11 am to 1 pm or 4 to 6 pm
Monday, 10/3, 11 am to 7 pm
Tuesday through Thursday, 10/4 – 10/6, 11 am to 1 pm or 4 to 6 pm
Friday, 10/7, 11 am to 7 pm
Meet your 2016 Race Chairs
Gail Hayes (pictured on the left) walked in the very first Wabash Valley Race in memory of a neighbor. Then in 2012, the Race became even more personal when she was diagnosed with breast cancer. Nikki Holmes (pictured on the right) has led a team for many years in honor and now in memory of a dear friend. Please join them in making the 2016 Wabash Valley Race for a Cure a successful one!
The Race is unique in the fact that 100% of the net proceeds are allocated to our mission. 75 percent of the net income stays in our central Indiana community to help fund local programs offering breast health education and breast cancer screening and treatment. The remaining 25 percent of the net income supports the Susan G. Komen® Grants Program.