Multiply your impact, multiply your fun!
Participating in the Komen Wabash Valley Race for the Cure® with a team increases the fun, the laughter and maybe even the tears you share on Race day.
Did you know that every two minutes a new case of breast cancer is diagnosed in the US? Help us fight back by forming a team in honor or in memory of someone you know impacted or touched by breast cancer. Together you make an even greater impact than you could alone.
This year, our suggested team fundraising goal is $1,000. If you have 10 members, that's a goal of $100 per person, which will make a real impact for Hoosiers in need of breast health services. For more information about Race teams, visit our FAQs page.
Team Village
We would also like to invite your team to participate in Team Village at the 2016 Race. Team Village is a place where your team can hang out and have fun! We provide the plot, and you provide the tent! Please let us know in advance if you plan to join Team Village by emailing Race Teams Chair Maureen Johnson. Vehicles will not be allowed in Team Village.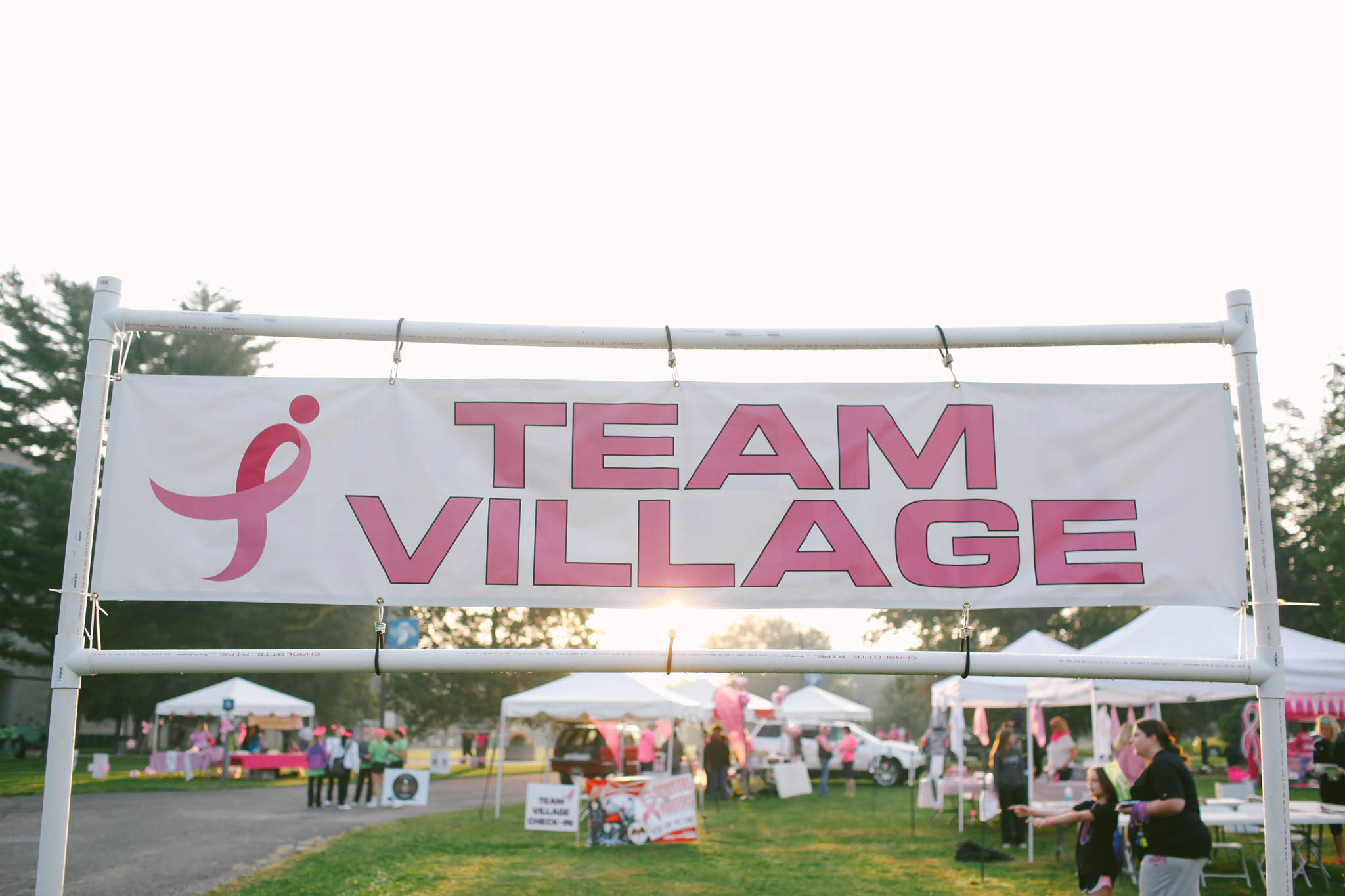 When your team signs up to participate in Team Village, we will provide each team in Team Village with a yard sign so that your team can decorate it. Teams will be able to pick up their yard signs from the Komen office at the Meadows Shopping Center between Wednesday, September 21 and Monday, October 3. Please turn in your decorated signs to the Komen office by 7 pm on Monday, October 3.
Note: The team signs have corrugated edges. When decorating, please make sure no material covers the edges of the yard sign. This will allow us to insert sign holders and display your decorated sign for the contest.
Teams who are participating in Team Village but do not turn in a decorated sign to Komen by October 3 at 7 pm will have a generic team sign with your team name placed on their team sites at Team Village.
Team awards
There will be six awards for teams at the 2016 Wabash Valley Race. First, second, and third places will be awarded (the first place team receives a plaque, and the second and third place teams receive a ribbon). Awards will be given for each of the following categories:
2016 winners:
Team Dragonflies - $6,030
Peggy Vannoni / Judy Divine - $5,507
Old National Bank - $855
This award is based on the team who raises the most dollars for Komen by Friday, October 7. While fundraising for Race continues until November 8th, this award is based on the team who raises the most dollars by October 7th. Awards for first, second and third highest team fundraisers by the October 7th deadline will be announced during the presentation of Team Village awards on Race Day. Ideas for fundraising can be found here.
Most Creative "Pinked Out" Area
2016 winners:
Troupe Amanda
Team Dragonflies
Diane's Angels
This award is based on the most creative or imaginative team area (of course, incorporating pink into the area).
2016 winners:
Peggy Vannoni / Judy Divine - 104 registered participants
Union Health - 92 registered participants
Diane's Angels - 58 registered participants
This award is based on the team with the largest number of members registered (not the number of members in attendance).
Largest Team in Attendance
2016 winners:
Team Dragonflies
Team Katy
Diane's Angels
This award is based on the number of team members that are present at your team site during judging, which will start at 7:50 and end at 8:15 am. When Team Village judges come to your team site during the judging, they will do a head count of team members. Only those team members who are present at the team site for the judges head count will be considered as part of the team in attendance for the award.
2016 winners:
Nurses for Knockers
Mary's Rack Pack
Team Dragonflies
This year, teams will display their team shirts in their team sites so that the judging panel can evaluate it.
2016 winners:
Nurses for Knockers
Pink is the New Black
Alorica
To have your team's sign judged for the "Best Team Sign" award, your team's decorated sign must be turned in to the Komen Office at the Meadows by 7 pm on Monday, October 3rd.
Thank you to each 2016 team who participated in the Wabash Valley Race!
Other notes for teams
If your entire team is registered by Monday, October 3, you can pick up your Team Packets at the Komen office in the Meadows Shopping Center on October 3 from 12 -7 pm (you must be the team captain or another team representative to pick up the packets for the team). If any additional individuals want to join a team after registration packets have been picked by the captain, that individual will need to pick up his/her packet him/herself.
Packets may also be picked up on Race Day at the Meadows Shopping Center.